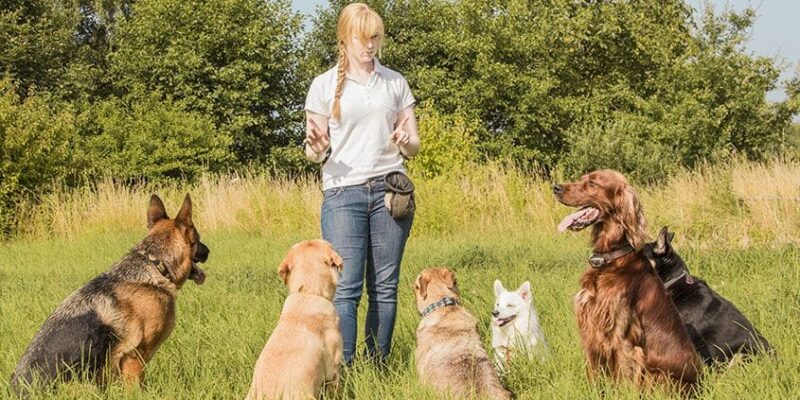 Some people grow up and live their entire lives with dogs, so training is almost second nature to them, while for others, it is a completely new experience. You must train your dog when you get them and teach them basic commands and how to behave, and it is vital to socialise them with other animals. When you have no experience in training dogs, it can be hard to know where to start, and you need to understand it is not only about training the dog but also yourself. An expert dog trainer can help you teach your dog commands and behave and show you how you need to be to ensure your dog obeys you. Below are some of the options for dog training that you can do yourself or seek the services of a professional dog trainer.
Using A Professional Dog Trainer
When it comes to dog training, Scotland has many reputable trainers you can consider using for your puppy, and you will need to do some research to find the best ones in your local area. There are usually a couple of options available when using a professional service, so you can select one that suits you best. You can choose private lessons for you and your dog if you can afford them, so there are no other distractions, and you get one-on-one tuition. However, you can also select group classes where you work with other dogs and their owners, which is often much more affordable. You can also opt for a residential training course where you drop off your dog and then collect them once the training is complete, which is the most expensive option when using a dog training service.
Training Your Dog Yourself
You can also choose to train your dog yourself, but you will need to do plenty of research on the subject before you do. There is a lot of information online about the subject, and you can also read books that can help you with the task, and you can also watch videos on YouTube. You must pay attention to how you act and say things, as this can significantly impact your dog and their compliance with your commands. Some of the basic things you will want to teach your dog are as follows:
Sit
Stay
Lie Down
Drop It
Fetch It
Come Here
Heel
No
It is an ongoing process, and you will need to find the best method of training that your dog is most responsive to get the best results. Some dogs are food orientated, while for others, playing motivates them, so you will need to know your dog to find the best training method for them.
You will need to teach your dog commands, so they are well-behaved, especially when out in public, but you also need to ensure your dog is well-socialised and can get on with other dogs. There is nothing like watching your dog play with other dogs and have lots of fun, and it is also an excellent way of tiring them out and ensuring they get enough exercise.