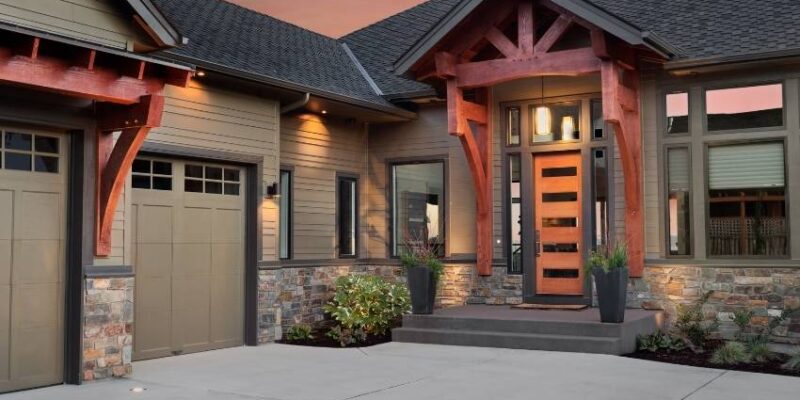 The proper maintenance of any property should include keeping the exterior in good condition, especially at the front side of the building, as this faces outwards and is seen by both neighbours and passers-by. How your home looks directly reflects your reputation, so proper upkeep is a must. So, it stands to reason that you should keep your property looking good and protect it against the elements, thus maintaining its value. If your home is looking a bit tired and needs a facelift, then please read on while this short article describes three ways you can transform your home and add value.
Have You Thought About Rendering?
Rendering is the name given to the process of coating the exterior surfaces of a building with a mixture of sand, cement and other materials called render. Normally external rendering is completed by professionals, but with the correct set of rendering tools and equipment, some prior research and good preparation can be completed by an amateur. There are different types of render suitable for various situations, which include –
Lime renders – normally used in older homes, it is flexible, breathable and has recently made a bit of a comeback.
Cement render – this budget option is mixed on-site and needs multiple coats and frequent repainting.
Polymer renders – uses a lime or cement render base and added polymers to prevent cracking; coloured options avoid the need for painting.
Acrylic render – often used as a topcoat over other finishes, silicon is added for longevity and protection.
Some renders are available pre-mixed, simplifying the mixing element of the rendering process, which might be an advantage if planning to do this yourself. Rendering transforms how your home looks and protects brickwork for many years.
Transform Your Tired Windows and Doors
One great way to improve your home's aesthetic quality is to use a relatively new process called UPVC spraying. This involves using state-of-the-art equipment to spray the UPVC surfaces with specially formulated paints; they bond with the plastic surface and create a protective layer shielding the windows from weather and UV rays. There is no limit to your colour choice, and the spraying process can also be used on garage doors, facias, gutters and any other UPVC fixtures on the exterior of your home. The process instantly elevates the overall appearance of the home, prolongs the life of your windows and doors, and avoids the costly need for replacements.
Landscape Your Garden
First impressions count, so making a good one will always be welcome; one great way to transform your home is to have your front garden professionally landscaped. Regardless of size, a well-manicured front garden will set the right tone and make great use of the space in front of your home. A good landscaper will utilise ideas such as these –
Tiled paths are a great opportunity to add pattern and colour.
Create tasteful and balanced pot arrangements.
Replace dull fences with green hedges to add form and shape.
Encourage climbing plants to add character to the building.
These are just four of the many ideas a landscaper has in their armoury, so find your local specialist and see how they could transform your gardens.
You see the front of your home every time you come home, so why not make it beautiful with one or all three of these great ideas?