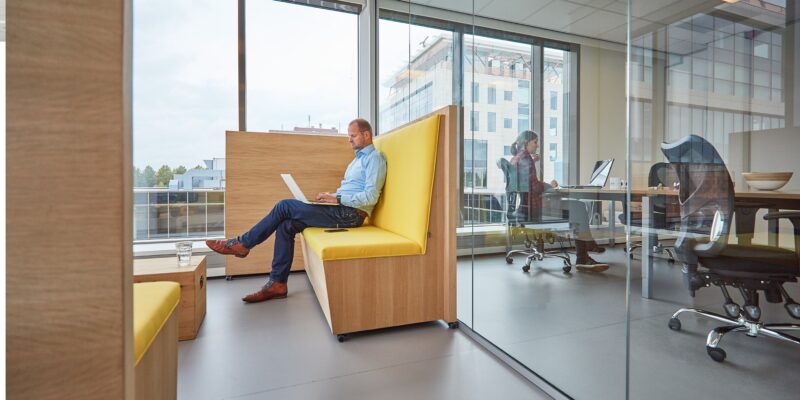 When office managers consider remodelling the workspace, there are probably a few major issues they want to address. In reality, however, it might be the simplest renovations that make the biggest difference. In order to achieve the best value for the money spent on this process, anyone involved in planning a new re-fit for the office should not overlook the following products and materials, which can combine to create a major change in the way an office looks and feels to everyone who enters.
A New Ceiling
It might not seem as though the type of ceiling that is installed in a business environment will make a huge difference, but that is not necessarily the case. In fact, choosing the right option can have a major impact on several aspects of the office environment. For starters, choosing false ceiling tiles can help insulate the entire office, thus creating a more comfortable and reliable temperature while reducing the amount of money needed to provide the energy for heating and cooling. Furthermore, this component is a great way to provide sound deadening. Providing employees with a quieter place to work will allow them to think more clearly and focus on the tasks at hand without becoming too distracted by the ambient sounds in their area. Even if people do not typically look up to admire the look of an office building's ceiling, picking out the right tiles can set the stage for a much more efficient and effective space for any office building.
Fresh Flooring Options
Many office buildings have carpeting throughout most of the space, but it is common to find low quality material that might not provide the most inviting experience to staff members and guests. To address this issue, it might be worth considering a new style of flooring. From innovative laminates to decorative tile to a rugged and durable form of carpeting, there are many options available to suit the style and aesthetic preferences of a particular brand. Regardless of which type of flooring is most attractive and compelling, remember that comfort is also a major factor. Be sure that there is a minimal risk of slipping on the chosen surface and select appropriate materials so that office chairs can effectively roll from one side of an office or cubicle to the other. Thinking about these small details will help the entire remodelling effort come together with the most advantageous results.