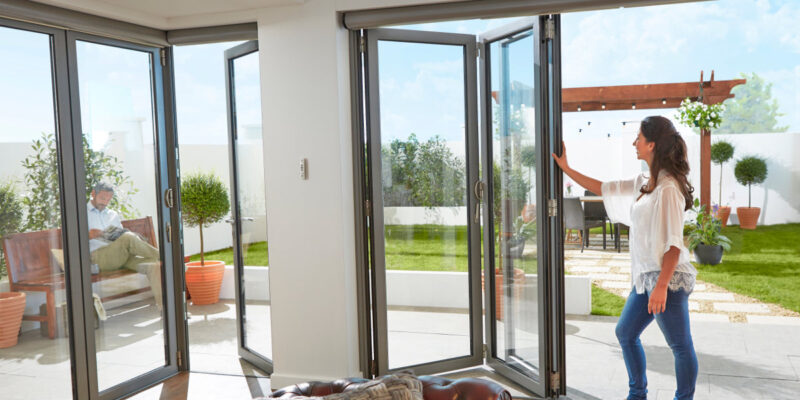 Bifolding doors have become increasingly popular in recent years, and it is not hard to see why. They allow for more natural light, provide easy access to the outside, and open space in your home in a way that traditional doors cannot. However, if you are considering installing bifolding doors in your home, there are several factors to consider before making your decision.
Space & Layout
The first thing to consider when installing bifolding doors is your available space and how the doors will fit into your home's layout. Bifolding doors typically take up more space than traditional doors when open, so you must ensure enough room for them to function properly. Consider the number of panels you want to install, as each requires a certain amount of space to open and close.
Materials & Quality
Bifolding doors are typically made from aluminium or uPVC, with the option of timber or composite materials. While aluminium is the most popular choice for bifolding doors, uPVC is a more cost-effective choice. However, it is important to consider the materials' quality, as lower-quality materials may not last as long and could result in drafts or leaks over time.
Glazing & Energy Efficiency
Various choices are available for glazing options for bifolding doors, from single-glazed to triple-glazed glass. Choosing a glazing option that provides good insulation and energy efficiency is important, as this will help reduce your energy bills and improve your home's overall comfort.
Security Features
Bifolding doors can be vulnerable to break-ins if they are not installed with adequate security features. Consider adding security features such as multi-point locking systems and toughened glass to secure your doors and protect your home and family. You can click here to see various security features you can add to bifolding doors to help increase security and protect your property.
Building Regulations
If you plan to install bifolding doors in your home, it's important to check whether you need planning permission or if your project must comply with building regulations. The regulations will differ depending on the size and type of installation, so it is best to consult with a professional to ensure that you comply. In most cases, planning permission is not required to install bifold doors to your property, but it is worth double-checking before starting the installation process for peace of mind.
Maintenance
Bifolding doors require regular maintenance to ensure they continue functioning properly and remain secure. Consider the maintenance requirements of the materials you choose and factor in the maintenance cost when deciding which option is best for your home.
Professional Installation
Finally, having your bifolding doors installed by a professional is important to ensure they are correctly installed and meet all relevant regulations. A professional installation will also ensure that your doors are secure and function properly, reducing the risk of damage or accidents.
Installing bifolding doors can be a great way to improve your home's natural light, access to the outside, and overall functionality. However, it's important to consider the above factors to ensure that your installation is safe, secure, and meets all relevant regulations. By doing so, you can enjoy the benefits of your new doors for many years to come.