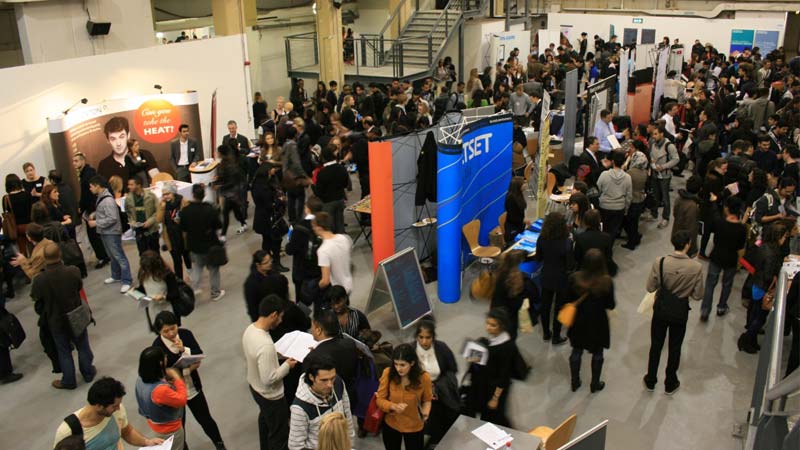 Participating in a Career Fair represents for each of the companies present to have a better relationship with a significant number of applicants, expanding the database of job profiles available in their region, their interests, and the skills of their future collaborators.
In addition to encouraging integration between employers and employees, the Job Fairs provide essential information on job placement and occupational orientation programs and actions and support for job training and self-employment. Nowadays, virtual career fairs have become the preferred spaces for employers and candidates to establish contact and achieve successful hiring processes.
There are two types of Job Fairs: in-person and virtual. In the first option, interested parties must attend the facilities on a predetermined date to meet with each of the companies convened, increasing their chances of making contact with the firms present.
In this modality, participants receive personalized attention from the companies, offering them the opportunity to make their job skills known and arrange a job interview.
On the other hand, Virtual Fairs are 100% online events, where vacancies from all sectors are exhibited for a more extended period, allowing you to consult them as many times as necessary. This type of events have multiple additional advantages among which you have:
The first advantage of this type of event is that they adjust to our time, economy, and needs.
The virtual modality allows applicants to search for jobs from mobile devices without the need to travel to a physical location.
There are no schedules for an effective search; since a virtual fair allows the same flexibility of programs, you only need an Internet connection to explore and apply to the participating vacancies.
Job seekers are more likely to browse on devices such as tablets, smartphones, and laptops, as these allow access to job offers at any time.
Virtual career fairs reduce the time it takes a person to find a job due to many job offers gathered in one place.
Virtual career fairs perfectly fulfill their purpose of streamlining the recruitment, selection, and hiring processes of job seekers who come to the fair.
To apply to a virtual job fair, you must have your resume online. One of the first steps is to register, complete your profile and upload a photo with a basic CV, do not forget that it must be free of spelling mistakes and adjusted to the jobs you want.
It is essential to keep your conversation focused and professional; your main goal is to connect with all the companies that interest you, so you have to maintain formality, avoid the use of emoticons and be careful with mistakes when writing words.
Be prepared to hold an impromptu video interview; recruiters often use Skype or Zoom. Keep in mind to dress correctly and prepare a short speech to impress them.
Finally, don't forget that it is important to send thank you emails to those who have spoken to you; this will ensure that you will be in the recruiter's thoughts and that they will consider you when they next have vacancies available. Also, attach your resume for future positions.
You must consider all the factors and situate yourself in reality. Going to Job Fairs with wrong expectations will only make you feel frustrated and disable this job matching tool.