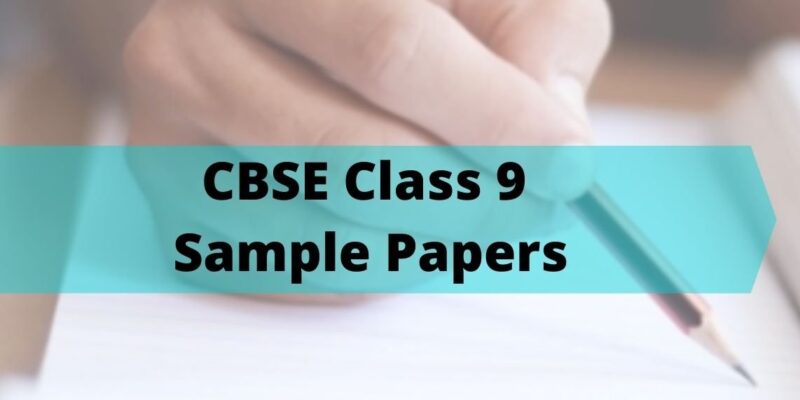 Grade 9 is an important part of one's life. Not because one gives pre-board exams, they`ll be entering their last year of school life soon, but because Grade 9 lays down a strong foundation on the subjects which will turn out to be the most crucial ones. To master grade 11, 12, or even grade 10, doing well in grade 9 is equally important. Cracking famous exams like NTSE or even the olympiads expects one to have good knowledge of the class 9 syllabus. 
Being bad in 9th grade will be a hindrance to you while solving numerical problems, or deriving complex theorems. One of the solutions to this is by-hearting the answers which would never work out in the long run. And if you are going for an engineering or medical exam, good luck. Hence getting a head-start might be a better option for you. 
Pre-boards are one of those exams that allows one to spot their weak areas, work on their mode of preparation, understand the pattern, and improve their writing speed along with writing style and techniques. However, there's no need to get demotivated if you currently aren't doing well in school. This article gives tips on how to boost confidence for the class 9 pre-boards. After all, exams do not determine one's final score in life but are merely an indication of the current level of preparation. 
Learning where you want to set goals is important because failing to complete them or setting the bar too low would do no good. Start with planning what you would like to focus on and make a study plan. This would ensure effective preparation and also motivate you to reach your end goals.
Find out when you can be the most productive because research shows that completing challenging or difficult topics when your brain isn't active won't lead to good results.
Begin studying important topics and chapters
Start focusing on key topics and chapters with high weightage of marks to quickly score in the exams. Constant revision of these topics can help you score marks on the long run. There will be multiple doubts that you will encounter during such revision, do not get disheartened. Approach your teachers and have them clarified as soon as possible to continue to your next topics and chapters. Chapter division is an efficient method to manage easy and difficult topics, as it can help you understand which lesson needs more time and effort to master. This also prevents you from wasting time on easy and moderate level chapters.
NCERT is the key to success
Many recommend using NCERT online for various reasons. The books are vivid and have language that is easy to understand. Apart from that, it is catered to all the students to make it engaging and pique their interest in it. Keeping these things aside, most of the questions covered in exams come from the NCERT textbook. Using other study materials is fine, but don't forget to finish NCERT. Practice all the problems at the end of the chapter (exercises) to boost confidence and take notes as and when required.  If you get stuck on any exercise problem, reread the concept and give it another shot. 
No matter how well we prepare for an exam or know everything in the upcoming test if we cannot write fast enough, it all goes to utter waste. This can also be said for how accurate we write what we know. Theories, formulas, and axioms must be learned by heart and written word for word to achieve the highest possible marks in that question. The best possible way to improve your accuracy and speed of writing your exam paper is to try as many mock tests as possible.  Use a timer and set a specific time limit for each test and try to reduce your time limit and simultaneously increase your accuracy in the answers that you write in order to get a top score in your respective subject 
What better way to test yourself and find out your strengths and weaknesses than taking a sample test against time. Use CBSE Sample Question Papers Class 9 and try solving the paper. Once you are done, verify the answers and analyze the answer script to know which regions can be improved with a bit more practice and the concepts that weren't asked much in the sample question papers. Rectify your errors by reading the concept again and solving extra questions on them. Retake the sample paper if you aren't able to answer it completely on the first attempt. Taking sample papers will boost your confidence for the exam and will also help you manage time between sections and utilize the remaining time for verifying your answers. Revise the syllabus often to not forget the concepts easily and to be able to recollect all the information in a short amount of time.
Being able to manage time effectively will be a huge benefit in the future. It helps you achieve more in less time and still have time to focus on other hobbies and interests to recharge your bodies and keep your minds fresh. This can be done so by sticking to the study plan, setting goals and most importantly avoiding procrastination.
Your mental health matters
Grades don't matter if you aren't happy. Devote some time to yourself (self-love) and get some proper sleep, eat food that is highly nutritious and take frequent breaks from studying by taking a walk/listening to music to calm. Believe in yourself at all times and like other points mentioned, don't give up. Don't compare your grades with other students because you are your own competition.